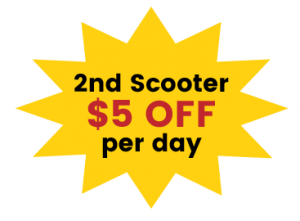 CUSTOMER SERVICE JUST TO MEET YOUR NEEDS
Our manual wheelchairs consists of detachable arms and swing away footrests that come with a dual cross bar that reinforces the carbon steel frame. With a maximum weight at 500 lbs, our wheelchairs are durable, lightweight and attractive for every event. A Scooter 4 U also offers multiple other different types of mobility scooters and electric wheelchairs as well. If carrying the weight of your wheelchair is a strain, check out our Electric Wheelchair or Mobility Scooters and see how they may be a better option for you. Call now to reserve your wheelchair, today!
Manual Wheelchair
16", 18", 20", 22", 24" Wide
A Manual Transport Wheelchair makes it easy for caregivers and their loved ones to go more places with greater ease and comfort. Designed for maneuverability, providing improved mobility through tight spaces or public areas. Ready to go anywhere, the chair folds up quickly and compactly so you can put it in the car trunk, carry it up the stairs or store it until needed again.
Please select location to view prices.
Disneyland
$5 per Additional Day
PM Deliveries & Pickup's TO ALL HOTELS & AB&B'S Additional Charges Apply.
*Prices vary per location and are subject to change without notice
Monthly Rates Available
Call for Pricing