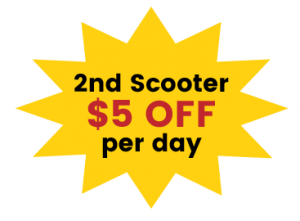 SCOOTER RENTAL IN ANAHEIM, CALIFORNIA
Are you or your loved one coming to an age where it's time to consider a mobility scooter or motorized wheelchair? Whether you're on vacation, or would like to simply take a walk, a mobility scooter may be extremely beneficial for long extended periods of time.
A Scooter 4 U offers many different types of mobility scooters to meet every one of your needs. Located in Anaheim, California we offer scooter rentals to all major theme parks, including Disneyland and Knotts Berry Farm. A Scooter 4 U offers mobility scooter delivery & pick up from multiple different and convenient locations, such as your hotel or even at Disneyland Drop off. Call (562) 697-7725 to reserve your mobility scooter or wheelchair rental today!