About "A Scooter 4 U"
Family owned and operated since 2002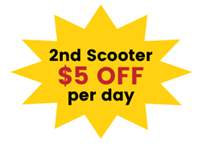 We Have Experience
Let A Scooter 4 U supply your mobility rental equipment because we have been in the mobility business for over 20 years. We are here to help you by answering questions or providing a "Rental Quote." We are not a national chain or call center waiting to dispatch your call. When you call us, you reach someone at our store centrally located in Anaheim, California only ONE MILE from Downtown Disneyland and only minutes from Downtown Los Angeles, Long Beach and the LAX Hub. We take care of our renters personally and promptly.
Frequently Asked Questions
How Do I Get a Free Rental?
If your convention or event is not listed on our "We Deliver To" page, just let us know and we will add it. If you are the first person out of six to rent a unit for the same event you told us about, your rental is Free!
How Do I Get a Rental Price Quote?
To get a rental quote to rent our equipment for your next visit please fill in the "Request Quote" form as completely as you can. Call us if you need help with it and we will be happy to take your information over the phone. We need to know what you want to rent, where you need it delivered to, and when and for how long you want to use it. With that information we can give you a price quote.
How Do I Reserve a Scooter or Power Wheel Chair?
If you would like to reserve a rental scooter with A Scooter 4 U, Inc. Please complete the Rental Quote Form. We never ask you to put financial information on the internet. We will then call you by phone to Confirm all dates, time and hotel is correct. It is our policy to hold your credit card number as security until we get our equipment back. Your rental is Confirmed as soon as we have all the required information and your credit card number has been processed to generate the Authorization Number.
When Do I Have To Pay
Most customers will pay in advance at time of call in for information and rates. Some will pay in advance to have less charged to their credit when they arrive on vacation. We will ask you your preference. We do not charge your credit card when customers prefer to utilize or "Pending Folding" with a later date but No Confirmation will be confirmed. When your credit card is processed we receive an authorization number from the credit card company which we attach to your rental agreement and AT THIS POINT YOUR AUTHORIZATION WILL ASSIGNED TO YOUR DELIVERY INVOICE. Any email Confirmations will then be forward to the customer. All Reservation MUST BE CONFIRMED 7-10 days before your arrival date. We do accept last minute rentals but again the credit card must be processed to Confirm your Rental Delivery.
How Do I Get My Rental Unit?
Your rental unit which is clearly marked will be waiting for you at your predetermined destination as agreed upon. If it is a hotel, we will leave your rental unit with the front desk with the unit's key and charger. A sealed envelope addressed to you will contain your rental agreement and your credit card receipt for the entire rental amount as we explained to you over the phone. Your rental unit is fully charged and ready to use all day. It is your responsibility (not the hotel's) to charge your rental at least 8 full hours each night of your rental term in your room. You should have worry free use all day of your rental if you leave every morning with a full charge on the batteries. THIS IS A MUST. Make sure that the wall outlet you plug it into is not turned off by a switch on the wall. It WILL FAIL if not charged all night.
What If I Have A Problem?
If you do encounter a problem with your rental, call us immediately so we can get it fixed in a timely manner. We are a retail store where we sell new and used mobility equipment. We have a rental fleet and a complete service bay for
installing and repairing mobility equipment. We can't help you if you don't let us know there is a problem.
What To Do When I Leave?
When your rental term is up please return your rental to the front desk along with the key, the charger, and fully charged. The rental agreement and credit card receipt is for your records. Please keep them with you at all times to show responsibility for the unit while it is in your possession. We will pick your unit up at the front desk where we left it. Once you see how handy our rentals are, you might consider buying one of your own. We have some for sale that are very easy to take on an airplane or cruise ship. Ask about renting to own if you are interested.