Wheelchair Rental Near Me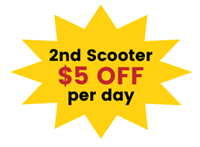 WHEELCHAIR RENTAL IN ANAHEIM, CALIFORNIA
Are you or your loved one coming to an age where it's time to consider a manual or electric wheelchair? Whether you're on vacation, or would like to simply take a walk, a wheelchair may be extremely beneficial for long extended periods of time with individuals who have difficulty standing.
A Scooter 4 U offers manual and electric wheelchairs to ensure you are comfortable during the time you rent with A Scooter 4 U. Located in Anaheim, A Scooter 4 U offers wheelchair delivery & pick up from multiple different and convenient locations, such as your hotel or even at Disneyland Drop off. Call (562) 697-7725 to reserve your mobility scooter or wheelchair rental today!
If you're searching for a wheelchair near me in Anaheim, look no further than A Scooter 4 U. Whether you need a manual or electric wheelchair for yourself or a loved one, we offer comfortable and reliable options for rent. Our services include delivery and pick-up from various convenient locations, making it easy for you to access the equipment you need. Our commitment to first-class service, vibrant atmosphere, and top-quality equipment makes us the preferred choice for all visitors in Anaheim, including those at Disneyland and Knotts Berry Farm. Call (562) 697-7725 to reserve your wheelchair rentals near me and experience the freedom of movement.
Manual Wheelchair
16", 18", 20", 22", 24" Wide
A Manual Transport Wheelchair makes it easy for caregivers and their loved ones to go more places with greater ease and comfort. Designed for maneuverability, providing improved mobility through tight spaces or public areas. Ready to go anywhere, the chair folds up quickly and compactly so you can put it in the car trunk, carry it up the stairs or store it until needed again.
Please select location to view prices.
Disneyland
$5 per Additional Day
PM Deliveries & Pickup's TO ALL HOTELS & AB&B'S Additional Charges Apply.
*Prices vary per location and are subject to change without notice
Monthly Rates Available
Call for Pricing