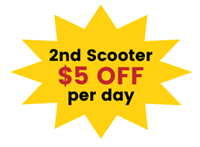 FREE AM DELIVERIES TO ALL HOTELS
OPEN 365 DAYS A YEAR
Residence Inn Long Beach Downtown
600 Queensway Dr.
Long Beach, CA 908002
800-760-7718

A Scooter 4 U offers services for convention attendees.
We can handle from 1 mobility powered scooter to over 55 units. All will be delivered on time prior to the arrival of first convention guest.
​
When you order your mobility products from A Scooter 4 U, Inc., they are delivered to your hotel prior to your arrival charged and sanitize ready.
Reservation Hours



MONDAY through SATURDAY: 6:30 am to 10:00 pm PST
SUNDAY: 8:00 am to 10:00 pm PST
CALL NOW: 562-697-7725