For those who rely on a mobility scooter to get around, traveling can be a daunting task. While there are many options for getting from one place to another, using public transportation with your mobility scooter can be challenging. Fortunately, with the proper preparation and planning, you can make the most of your travels. This article will provide tips and advice to travel safely and comfortably using public transportation.
Traveling by Taxi
A taxi is convenient for getting around while utilizing a mobility scooter. Taxis are frequently equipped to transport these devices and offer a safe and convenient means of transportation. When booking your taxi, be sure to let them know that you will need assistance in loading and unloading your mobility scooter. It will help the driver know what to do when you get there.
Traveling by Train
When traveling by train, it is essential to request assistance from the railway staff in advance. Doing so will guarantee that ramps are available for you to use when boarding the train with your scooter. It's also wise to double-check with the rail service in question regarding any model restrictions.
Traveling by Bus
All new buses have two spaces designated for passengers with disabilities or senior citizens. You can safely store your wheelchair or another mobility device in one of the padded compartments located behind the driver.
Most cities have accessible buses that have wheelchair lifts. Depending on your location, you may be able to load and unload your mobility device independently within two to three minutes.
Traveling by Plane
If you are planning to take a plane ride with your mobility scooter, there are some things you need to know. You must ensure that you request special assistance from the airline in advance and that you follow their instructions carefully. With the right preparation, traveling with your mobility scooter should be an enjoyable experience.
Traveling with your mobility scooter can be a great way to explore the world around you. It can make travel easier and more comfortable and can provide access to locations that would otherwise be inaccessible. On the other hand, there are a few things to remember before you embark on your trip. Always verify the local rules and get acquainted with any precautions or restrictions that may be in effect before setting out on your journey. It's also important to check your mobility scooter before starting your trip. Traveling with a mobility scooter can be fun and rewarding if you consider these factors.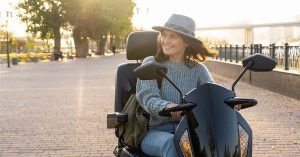 Get your mobility scooter at A Scooter 4 U Now! Whether looking for mobility scooter rentals or planning to purchase one, A Scooter 4 U has you covered. We offer motorized and manual wheelchairs to cater to everyone's needs. We are located 1 mile from Downtown Disney so you can easily rent our equipment. Contact us today, and our team will be happy to assist you!